Sony recently announced its new research and development project called the Future Lab Program. Now the tech giant is gearing up to put its first product from the project into the market. Dubbed a simple and rather intriguing name — N — Sony's Future Lab Program's first product is a hands-free wearable — an earbud that doesn't get plugged in the ear. The gadget will reportedly be shown off at SXSW this week along with some other Future Lab Program concepts. Curious Sony fans and other interested parties should be able to get a better idea of the nerdy gadget soon enough.
But for now, Sony Electronics has released a teaser video for the new Project that offers a glimpse at the hands-free wearable N.
The video is a little mysterious. It features a woman floating in water with earbuds falling off of her and disappearing into the dark water. She's then subsequently transported to the top of a cliff overlooking a city, then comes a voice talking about the weather and giving positive sentiments about the day ahead.
'It's going to be another sunny day in paradise. Just take a look at this weather. Let's get this day off to a great start. Good morning!', the voice said.
The woman in the video seems to be responding to the voice, saying "ready," so it's plausible to expect the N to have some voice recognition features or even some elements of artificial intelligence as well. The woman in the video seems to be wearing a shiny white Sony branded wearable around her neck, which should almost certainly be the "N".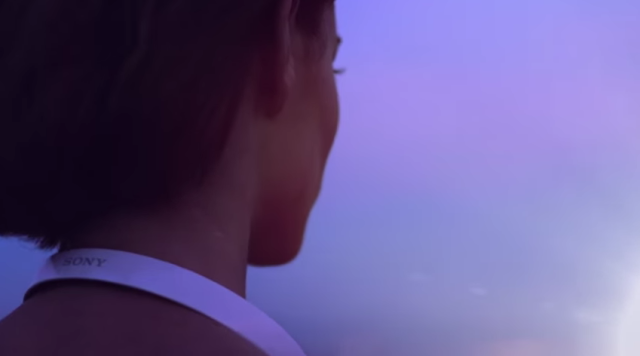 Image credit: Ars technica
Earbuds are so yesterday, N is apparently going to replace that — it's a product that will save you from the wired hassle of using traditional earbuds. The Japanese multinational conglomerate corporation has made a handful of successful electronic gadgets, including the PlayStation, Smartphones, cameras and the Sony TV lines. However, Sony is introducing a unique approach with the N, the company is employing an "open source R&D architecture".
This mean that tech enthusiasts and other interested persons can offer their ideas and contribute to how the final design of the N will look like. According to a press release by the company; the new R&D programme will let Sony share "concept prototypes in development at Sony R&D with users for opportunities to co-create future lifestyles". The program will "embrace an approach to technological research and development that emphasises an open creative environment and direct lines of communication with society", the press release added.
Sony's N will let the user receive audio without having to insert any object into his or her ear. The technology behind N, or how the company intends to make it work is pretty much a mystery, but Sony apparently has enough resources to pull it off. It recently unveiled the Xperia Ear that can read out key info, and is designed to be worn all day. So it's highly plausible that with an open R&D framework and a lots of cash as well as human resources, we may see the next PlayStation.
Come On, Will You Go Without Sharing This?