While virtual reality is still in its development stages, developers have created mind blowing and immersive experience which aims to revolutionalize the way we play games, watch video and so much more. The are tonnes of great VR apps and games out there that will make you just want to hate other gaming concepts. It is official; am worryingly obsessed with virtual reality headsets and apps and the reason is not far fetched – VR is badass. With a VR headset strapped to your face, you could be just about any hero figure you want to be. You could fight your way through legions of alien invaders, stand at the edge of a spacecraft, fight your way through bands of revolting robots or just take a cool VR dive into the Atlantic.
Virtual reality is something more of a culture than a concept. A culture so ingenious it makes just about any one feel special.


Sony's PlayStation VR headset during a demo
Image credit: Techradar.com
Sony Inc are badass when it comes to gaming gadgets, checking out their PlayStation series of gadgets will give you an idea. PlayStation is so damn immersive that I tend to lose consciousness of my surrounding whenever am handling a Sony Gamepad. Playing games like Call Of Duty, Battle Field 3, Uncharted 3, Resistance, Dead Space and Crises 2 will get you hooked up like some cheap drugs on Sony Computer Entertainment gaming gadgets. However, there is a limit to the immersiveness Sony's PlayStation can offer, the real deal about gaming is not just being able to perform cool actions and gravity defying stunts but the "feeling of being a part of the game". Having the feeling of Being in the game is the best part of gaming and that is what Sony is planning with its new Sony PlayStation VR headset through its pet project – Project Morpheus. The Sony playstation VR headset is designed to be fully functional with the PlayStation 4 and PlayStation Vita game system. Though still mostly a prototype with speculations of a first quarter of 2016 release date for consumer versions, getting it isn't really rocket science especially for developers.


Image credit: wikipedia
Also check out : The Avegant Glyph VR headset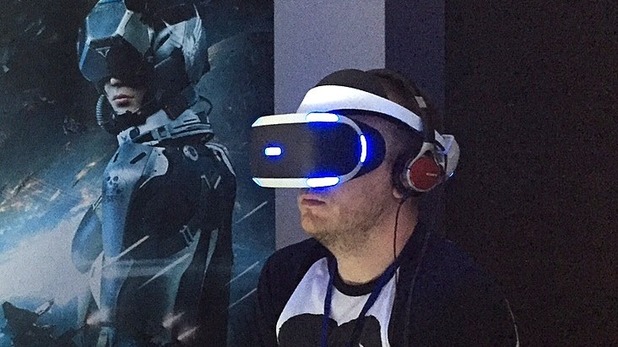 Image credit: cdnds.net
Hopes for an unparralled VR gaming experience with the PlayStation VR headset are quite high. This is partly due to Sony's reputation with anything gaming and its extendee Research and development period. In early 2014, Sony Computer Entertainment research and development engineer Anton Mikhailov said his team had been working on Project Morpheus for more than three years. Sony is not new to the VR business, Sony's interest in head-mounted technology dates back to the 1990s. Its first commercial unit, the Glasstron was debuted in 1997 and lived up to initial expectations.
Check out a similar product: Sulon Cortex VR headset Review
A prototype of the PlayStation VR headset released at GDC'15 featured an OLED 1920×1080 display with an RGB subpixel matrix, and will be capable of displaying content at 120fps. It also features a high FOV, 6DOF head- tracking, stereoscopic 3D, and unwarped output to a TV, either for others to view what the headset wearer sees, or a separate display to compete against the headset user using a standard PS4 controller. Most of the games for the PlayStation VR headset are in pre-alpha stages with the developers hoping to launch at the same time as Morpheus during the first part of 2016. Nonetheless, there are tonnes of interesting and immersive games for early adopters. You may however get a little nauseous playing games like Battle Zone, a game from Rebellion where you're in the cockpit of a spaceship shooting at aliens. Believe me, turning in virtual reality while actually being stationary in the real world isn't particularly going to go well. Sony already has a leg up on providing motion controllers unlike Oculus's Touch controllers which are still being developed.
There is however still no official word on release date and possible pricing of Sony's PlayStation VR headset consumer units but there are strong indications that the headset would cost about $350 as against the ridiculously pricey $1000 price tag earlier speculated.
Come On, Will You Go Without Sharing This?