Over the years drones have always almost been an exclusive technology of the military with nearly non existence civilian and commercial applications. This vivid stereotype has been created in such a way that all some of us can think when we hear of drones are 'flying robots firing missiles at Taliban's foot soldiers and technicals'. That is soon about to change because drones might be the much needed missing link in the modern e-commerce industry. Nigerian e-commerce start-up Yulada hopes to navigate this technologically stormy path through ingenious innovations. The start-up which is the latest in the Nigerian cyberspace has announced it has acquired drones with which it would be delivering ordered goods. This move, the company said, is a way of overcoming the traffic challenge issues in the major Nigerian cities.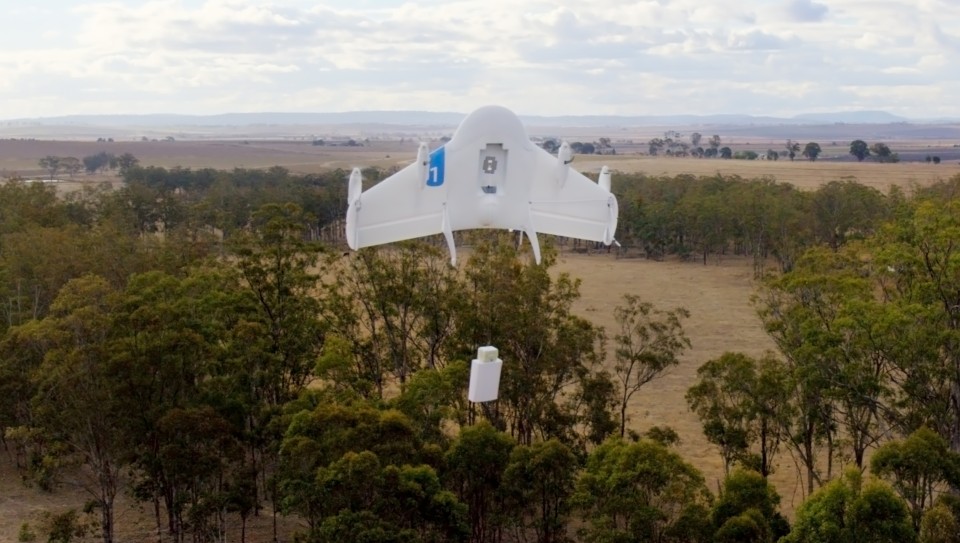 A Google drone on delivery mission
Image credit: Google
Yudala's online co-ordinator Prince Nnamdi Ekeh said; "We have acquired a few
drones and working with partners in Asia to develop and deploy these Integrated Drones to avoid vehicular traffic in major cities in Nigeria. We are working to secure appropriate permits from the relevant government agencies. This will go live soon as we live up to our mandate of setting new milestones for the online retail business in the country".
Amazon Also Testing Use Of E-commerce drone…
According to AllTechBuzz, Earlier, Amazon had announced that they are developing drones for delivery of goods ordered via their E-Commerce portal. Drones are small aircraft systems, remotely controlled and is unmanned. While drones can save a lot of time and human effort for delivering shipments at doorsteps, the technology isn't yet ready to deliver goods in an urban environment. There are a lot of security protocols and safety regulations to follow (most of which are undefined for civil drones) which make it impossible for e-commerce giants to use civil drones for delivering goods throughout the world.


Amazon test drone.
Image credit: Amazon
Though the are laid down rules, guidelines and standards for drones in military service or paramilitary applications, the same however cannot be said of civilian drone use especially in e-commerce in Nigeria. The International Civil Aviation Organization (ICAO) hasn't yet issued any guidelines and standards for the use of drones for civil purposes.
what are the benefits?
The first and the obvious benefit is that your deliveries would be a lot quicker than the present system. Few months back, a pizza outlet in Mumbai managed to gather lots of press coverage when it delivered a pizza using a drone at a high rise apartment which was 1.5 kms away from their location. The drone took around 10
minutes to deliver the package weighing around 500g. Its important to note that it takes about 30 minutes for a pizza delivery boy to deliver the pizza at such a short distance in heavy Mumbai traffic. There would probably be more happy customers as you would be able to deliver more products in a single day and hence be able to commit to faster order cycles – one of the most important factors in e-commerce.
Challenges…


E-commerce drone in flight
Image credit: e27.co
There are still lots of safety and privacy concerns around drone delivery as the machines will have sensors and cameras, infringing privacy. There will also be a need for designated landing spots free from obstacles. Drones have to establish a speed limit and have crash-avoidance software, for places that are densely populated. Only a few items will be eligible for delivery through drones because of it limited payload, so items weighing in the area of 100kg is probably out of the question. They also have a very limited battery life, so delivery drones will have to be fuelled with gas or any other petrochemical, which might cause noise and pollution.
Come On, Will You Go Without Sharing This?