From 2003 to 2012, more than 47,000 people died while walking on US streets. That is about 16 times the number of people who died in natural disasters in the same period under review. Further research shows that On average, a pedestrian was killed every two hours and injured every eight minutes. Accidents occurring at night have a drastically increased likelihood of fatality due mainly to incidents relating to visibility.Half of the world's road traffic deaths occur among motorcyclists (23%), pedestrians (22%) and cyclists (5%) – with 31% of deaths among car occupants. There isn't really a necessity for blame games when harm has been already done, but rather trying to figure out ways to minimize these incidents is the only plausible way forward.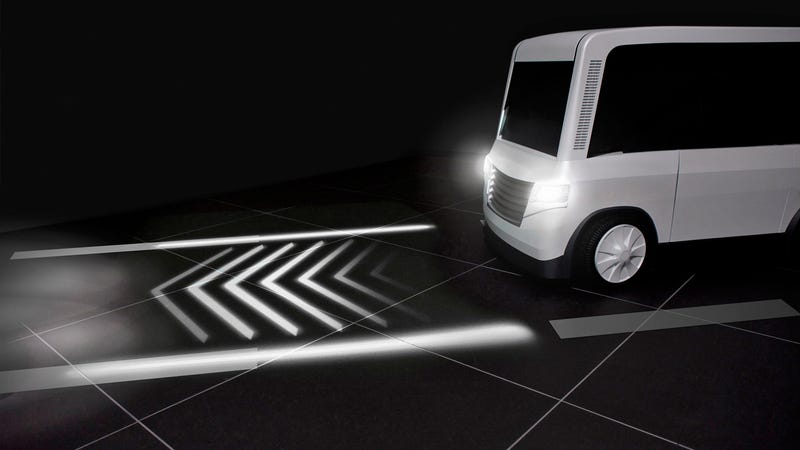 Image credit: Mitsubishi Electric
Enter Mitsubishi and signalling technology
…..Using Road Illuminating Directional Indicator gadgets.
Mitsubishi Is reportedly Developing Projector Turn Signals To Give Early Warning to Pedestrians and Drivers. These bright projector produced light may seem distracting at first, but the certainly will come handy at night. According to the Mitsubishi Electric, The retrofitted gadget projects large, easy-to-understand animated illuminations onto road surfaces to help pedestrians quickly comprehend the driver's intentions. The company is optimistic that the technology is expected to help avoid road accidents while lowering the potential frustration or confusion of nearby drivers and pedestrians. According to the Fuji Chimera Research Institute, Inc. , Market initiatives that use lighting sources for safer roadway environments are expected to increase from US$6.3 billion in 2013 to US$10 billion by 2022. Mitsubishi aims to be at the forefront of such technological innovations that will help save lives. Selected features of the new system were exhibited with Mitsubishi Electric's EMIRAI3 xDAS concept car during the 44th Tokyo Motor Show 2015 that will be held at the Tokyo Big Sight exhibition complex in Tokyo, Japan from October 29 to November 8.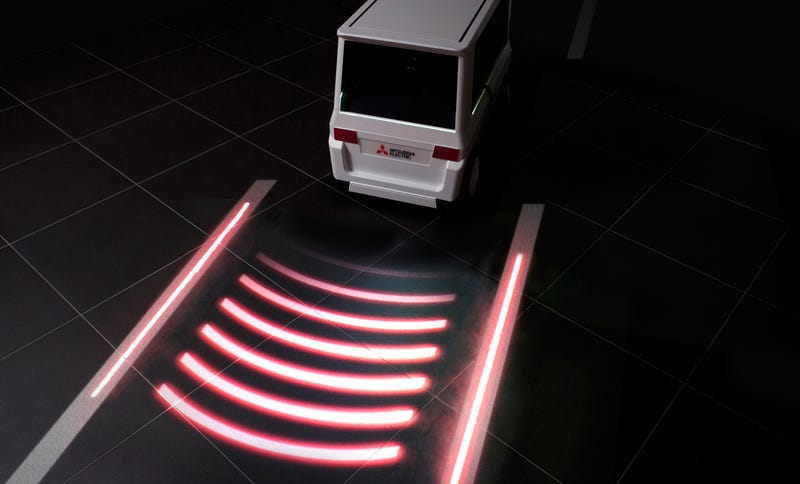 Image credit: Mitsubishi Electric.
The new technology will project the vehicle's intended path on the road, making it more obvious to everyone around it. It will indicate the direction the vehicle is traveling—forward, back, left, or right and project corresponding signalling lights—as well as when the occupant's are opening the doors of the car.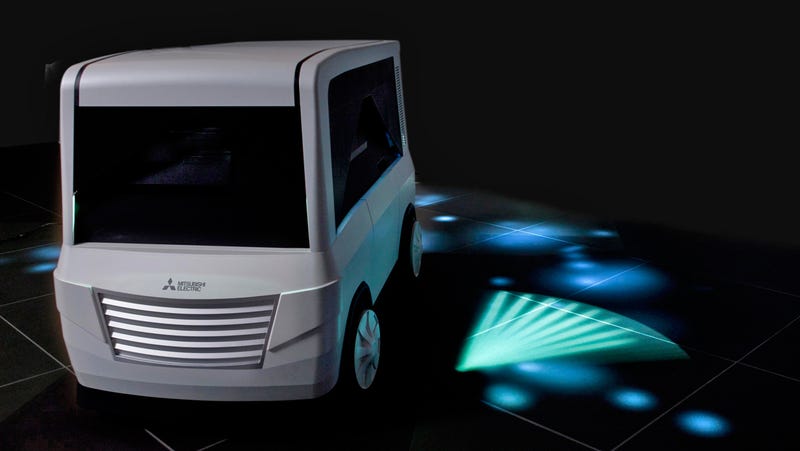 The technology will indicate when occupants of a vehicle are about to open the door, this will come in handy in giving head ups to other approaching vehicles.
Image credit: Mitsubishi Electric
The projectors will only drain a minimal electric juice from the vehicle and in exchange should probably help reduce accidents, collisions, and maybe even a little road rage if they're able to turn on automatically, eliminating unannounced lane changes.
Similarly, Last week, BMW introduced its Welcome Light Carpet technology for its 7 Series . The technology gadget enables the bottom of the car produce a bright illumination with a simple tap of the key fob, so that a driver is able to spot his or her vehicle in a crowded parking lot at night. As LED lights become more affordable, more carmakers could utilize them especially for safety reasons in the near future.
Come On, Will You Go Without Sharing This?