Every year, the consumer electronic show with its calvary of futurististic gadgets leave spectators and observers alike delighted, bewildered and amazed. Though, the were plenty of many other ingeniously crafted gadgets unveiled at CES 2016, the were certain ones that got a lot of onlookers scratching their head — futuristically designed gadgets. The future of yesterday is today, wait no more because the hi-tech futuristic gadgets we dreamed of yesterday is here today. Here a number of futuristic gadgets unveiled at CES 2016.

Traditional alarm clock that make annoying sounds to wake you up are so yesterday, The SensorWake Alarm clock is the future and the future is now! Nothing beats being woken up by a familiar and pleasant scent in the early hours of the day, or just at your time of choice. Those sweet dessert scent is enough to motivate you for quite some time. But what if you could have something better, imagine an alarm clock that wakes you up by pleasant scent instead of the "trehhhhhhnnnng" noise? Well nobody really likes being woken up by a screaming alarm, so french startup —sensorWake has an idea to fix this. The company's alarm clock uses scent capsules to gently rouse you in the morning by sweet smell of baked croissants, espresso coffee or chocolate or any other scent of your choice. It takes about 2 to 3 minutes to wake you up from a deep sleep, of course unles you have a stuffy nose. The SensorWake has a back up "Sound Alarm" that blasts you with loud sound if you aren't gentlemanly enough to be woken up by sweet scent after 3 minutes. The gadget itself will cost about US $109 , while the scent capsules, that last for about 30 alarms, are expected to cost about $5 each.

Remember Faraday Future, the auto startup funded by a Chinese billionaire and allegedly being used as a front for producing the rumored Apple cars? Well, if you caught a grip of the rumors when it spread like wild fire, then you certainly need no formal introduction. But hey, if you didn't — Faraday Future is a cool auto startup that makes equally cool electric cars, or at least tries to make. The FFZero1 is a branchild of the company. The FFZero1 features an ingenious smart phone integration system capable of live analysis of vehicle systems as well a Zero gravity driving station which means while driving, you will experience "an unparalleled sense of weightlessness and reduced driver fatigue." It can blast comfortably at 200mph and features 4 Quad Core Motors with over 1,000 horsepower. The FFZero1 also has an intuitive User Interface for integration between virtual and head-up displays. To put it simply — the FFZero1 is a futuristic ride with futuristic specs that promises to bring the future to your fingertips. The FFZero1 is still pretty much a concept car, so don't expect to see it in a garage anytime soon.

Sipping a glass of well "boxed" cocktail is something many enjoy, but perhaps only a few enjoy the stress of "boxing up" a cocktail. But you see, that's just what technology is all about — making life easy. So why endure the stress, Somabar robotic bartender that's intends to automate the whole cocktail mixing process by just a press of a button. Somabar is a Wi-Fi connected robotic bartending gadget for your kitchen, though it may not look all "Star Wars-ish" , but it does it job futuristically quite alright. The robotic bartender connects to the your iOS or Android device over Wi-Fi, aided by a companion app that serves as the control panel for mixing drinks. Though the are a handful of other robotic bartenders (mostly concept gadgets), but most of them with huge robotic arms and cumbersome parts look quite out of place sitting in a bar or your kitchen. On the contrary, the somabar robotic bartender looks just like a regular countertop appliance and won't create unnecessary scenes.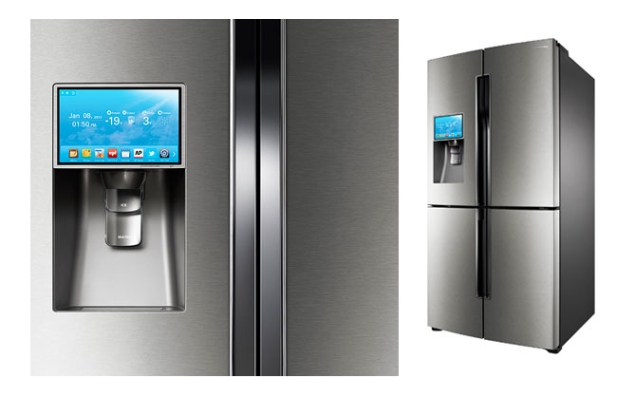 Ever get bored of watching your TV? Well try watching your smart fridge. The Samsung smart fridge let's you watch videos shared from your Samsung TV right in your kitchen while you handle your daily kitchen chores. As if having a huge display wasn't cool enough, Samsung smart fridge lets you order groceries and informs you of essentials that may be lacking in your fridge. The smart fridge dubbed 'Family Hub' utilises a special camera retrofitted into to refrigerator to take pictures of your fridge content everytime you open and close the fridge. It also runs apps that help users browse recipes, create shopping lists and manage the expiration dates of items like yogurt and milk. The display can also help users to keep up with news updates, weather updates as well as twitter feeds. Talk about having the future at your fridge door, the future is indeed now.
Come On, Will You Go Without Sharing This?