Google's a little too nerdy 'Google glass' might have had a bad run, but the Google cardboard VR project sure accomplished a lot. The low cost do-it-yourself VR and AR headset is unarguably the most successful among its 'peers'. As at January 2016, over 5
million Google Cardboard viewers had shipped and over 1,000 compatible applications had been published.Third-party apps with Cardboard support are available on the Google Play store and App Store for iOS. The Google cardboard software is now used as foundational framework for lots of VR headsets. Spurred by Cardboard's success or perhaps just sheer determination — Google might be planning another VR headset.
The Mountain View based search giant is reportedly planning some extensive new projects — projects aimed at developing a follow up to the Google cardboard to rival the much successful Samsung Gear VR. The new development reported by Financial Times is sequel to earlier rumours that the company was stepping up its VR efforts by launching a headset of its own, after it made a handful of hiring — including hardware and software engineers for VR camera systems, as well as host of other new VR related positions. It also comes at a time when its arc rival —Apple has pushed up its VR game by hiring Virginia Tech professor Doug Bowman —an expert in virtual and augmented reality who won an award for his work with Microsoft's HoloLens.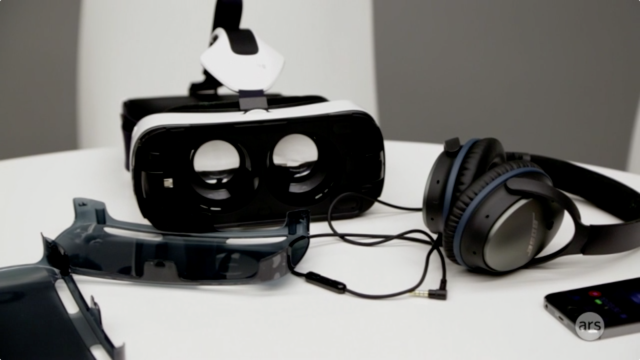 Image credit: Ars technica
Different Approach
The Google cardboard VR headset currently requires a smartphone to function — the smartphone serves as the processor for the easy to set up headset. Even though the new headset is supposedly a follow up to the Cardboard, it will reportedly take a very different form factor. According to reports by The Wall Street Journal, the new headset unlike the Cardboard will be made of something other cardboard and will not rely on a smartphone, computer or game console to function. It's important to take this report with cautious optimism, but if Wall street's reports are accurate this is going to be a first timer. Its going to be the first time any VR gadget maker wil be making a VR headset that doesn't require a computer or a smartphone to work. The two top VR headsets — Oculus Rift and HTC Vive both require strapping a screen and sensors to your head and also require a PC to run. Google's proposed new headset would get rid of such excesses— its essentially going to be e a game console for your face. The proposed "all-in-one" and "standalone" headset would be a completely standalone device, with the screen, processor, and storage permanently embedded in the headset. Similarly, The Wall Street Journal had earlier also reported than Google was planning a plastic successor to the cardboard — a headset which would basically be a "plastic shell with lenses and a few extra sensors, with the display and processing coming from a slotted-in smartphone". This has brought up speculations that the Search giant may be simultaneously working on a Smartphone powered and a standalone VR headset that may be equally released simultaneously. Virtual reality generally requires heavy, sustained 3D processing for long periods of time, and the problem is that smartphone processors generally do not have that much processing juice. Example of this is seen when using a smartphone with the Samsung Gear VR. The VR headset wil pop up a message telling you that your phone is too hot and you need to stop playing now. Though far fetched, but Considering Goolge's ongoing 'Project Tango' — a project developing an experimental 3D sensing smartphone — Google could build a specialized smartphone with a high-powered internals design suitable for a more sustained VR use with the proposed "smartphone powered" VR headset. Alphabet's unit — Google— has been investing heavily in virtual reality as of recent and is keen on making great strides in the area.
Come On, Will You Go Without Sharing This?