I grew up knowing NEC for producing consumer electronics, notably among them is it classy Projectors that hung well balanced on the four conners of our local church. For some reasons we kept going for a NEC projector each time the current one developed migraines – NEC probably did a good job with those geeky lighting, because that's the only plausible explanation I can offer for now because I was to carefree to care why then. The Japanese tech giant does more than just produce projectors for local churches : the produce a wide range 'not so geeky' to the 'very ingenious' electronice. In the run-up to the company's C&C User Forum and iExpo 2015 being held in Tokyo next week, NEC unveiled(?) its Augmented Reality based input device – The ARm Keypad.


Image credit: NEC inc.
The gadget combines a special set of glasses to visualize the virtual keyboard and a smartwatch to detect how fast you type and helps change keyboard display from QWERTY pad to a numpad , and from a numpad to a piano. Few years ago when virtual input devices hit the market, it generated a lot of hype. Though most of those virtual input device didn't live up to the hype – virtual input devices like NEC's ARm Keypad is definitely going to be the new sexy – the exciting new kid on the block. The ARm keypad is designed as a means to give workers a "hands-free" way of working while maintaining the ability to input text into a database. NEC claims that the ArmKeypad is better than other next-gen input methods such as voice interfaces, which are difficult to operate in noisy environments. The Gadget will come in handy for workers who have their hands engaged always and may not have the luxury of space for a dedicated and probably larger input device. NEC thinks the innovation could be used in a wide range of working environments including healthcare, manufacturing, document management and even security. Traffic workers, cops , doctors and surgeon may find the ARm keypad useful for data input while working under demanding conditions.
Fancy geeky input gadgets? Try the Gest Motion Controllers and the plain genius NeuroSky Mindwave input device.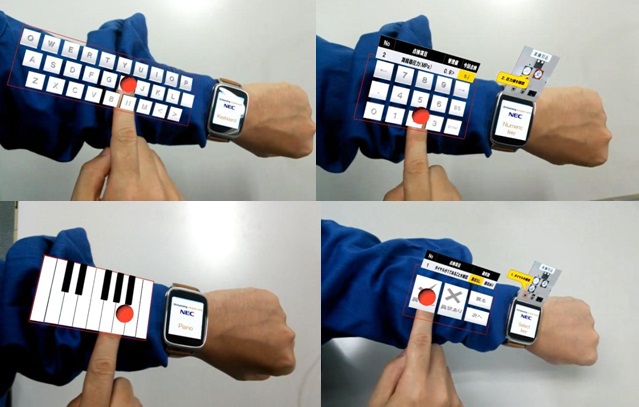 Image credit: JapanTrends.com
The special pair of glasses allows the user to see the keyboard projected on the arm, which will not be visible to anyone else. NEC hasn't given out anything about details of hardware or specs of the ARmKeypad. Possible retail pricing and availability is uncertain, but there are strong indications that the device will be released for consumer electronics market later next year. The NEC ARm keypad demonstrates a fancy scenario where one can go about with a keyboard without actually carrying one. Just for the record, the next time you spot an early adopter with a pair of weird glasses and a smart watch rigorously tapping his arm – there are two things involved. Its either the dude has finally lost it or has gotten himself an ARm keypad.
Come On, Will You Go Without Sharing This?