In what is seen by most industry expert as a way to force iPhone users to use only Apple official stores for iPhone repairs — the Cupertino based tech giant and iPhone Maker Apple inc introduced a rather weird policy to it list of already weird ones. The policy is clear— Repair an iPhone using third party repairmen and get your phone wiped clean when you make an upgrade to the latest iOS version. Personally, I think this is Apple trying to crate a tighter ecosystem around its products and services at the expense of its loyal fans. Currently Apple is already embroiled in series of patent litigations with billions of dollars at stake. Apart from patent issues, the company is also facing law suits from its own fans, from being sued for bent iPhone, burns from caused by Apple watch, to false claims about Apple products. Now it seems the iPhone maker is headed for another long drawn legal tussle, but this time against its own customers, which is by all indications bad news.


Image credit: 9to5mac.com
Obviously not impressed by Apple's new unfriendly policy, different law firms have made rallying calls to the thousands of iPhone users affected by the "Error 53" saga. In the UK, law firms are trying to invoke the "Criminal Damage Act 1971" to go against Apple's policy. A barrister told UK's Guardian that "Apple's "reckless" policy of effectively killing people's iPhones following the software upgrade could potentially be viewed as an offence under the Criminal Damage Act 1971." "The act makes it an offence to intentionally destroy the property of another." According to reports, some UK victims that had their phones repaired by third-party repairmen and Others that had simply damaged their found the call to arms against Apple as the only viable or plausible option to rectify the issue and are considering answering the rallying call for legal actions. In most cases the affected iphone had been working normally for weeks or months before the software upgrade shut down the handset. Also, similarly, At least one firm of US lawyers is planning to bring a class action against Apple inc on behalf of victims whose £500 phones have been rendered useless by an Apple's obviously dumb policy and software upgrade.
The Seattle based US law firm —PCVA said it believed Apple's stance may violate various consumer protection laws in the US, and is offering to represent victims for free.
"We believe Apple may be intentionally forcing users to use their repair services, which cost much more than most third-party repair shops. There is incentive for Apple to keep end users from finding alternative methods to fix their products. Think of it this way: let's say you bought a car, and had your
alternator replaced by a local mechanic. Under Apple's strategy, your car would no longer start because you didn't bring it to an official dealership. They intentionally disable your car because you tried to fix it yourself. That is wrong,"
—PCVA boldly States on its website.
Unsurprisingly, without a shred of apology or remorse, Apple continues to maintain it stands that "Error 53" is a security feature rather than a flaw. Apple reasserts that the security feature was designed to ensure that Touch ID cannot be compromised;
"Error 53 is the result of security checks designed to protect our customers. iOS checks that the Touch ID sensor in your iPhone or iPad correctly matches your device's other components. If iOS finds a mismatch, the check fails and Touch ID, including for Apple Pay use, is disabled. This security measure is necessary to protect your device and prevent a fraudulent Touch ID sensor from being used." Apple said in a press release.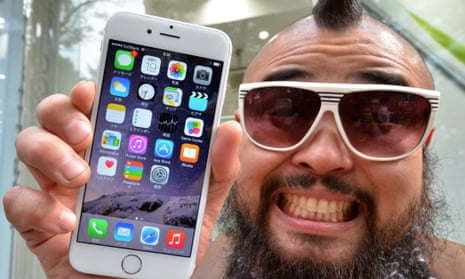 Image credit: guardian.co.uk
Very few Apple employees could offer any shred of useful information relating to "Error 53". When contacted by the Guardian, about the error, no useful information could be obtained rather than volumes of technical jargons ditched out by an Apple spokeswoman;
"We protect fingerprint data using a secure enclave, which is uniquely paired to the touch ID sensor. When iPhone is serviced by an authorised Apple service provider or Apple retail store for changes that affect the touch ID sensor, the pairing is re-validated. This check ensures the device and the iOS features related to touch ID remain secure. Without this unique pairing, a malicious touch ID sensor could be substituted, thereby gaining access to the secure enclave. When iOS detects that the pairing fails, touch ID, including Apple Pay, is disabled so the device remains secure." She adds: "When an iPhone is serviced by an unauthorised repair provider, faulty screens or other invalid components that affect the touch ID sensor could cause the check to fail if the pairing cannot be validated. With a subsequent update or restore, additional security checks result in an 'error 53' being displayed … If a customer encounters an unrecoverable error 53, we recommend contacting Apple support."
Despite potentially facing legal repercussions for its latest actions, Apple has remained almost totally indifferent about the so called "security feature" and has only managed to slightly revise its previous statements without changing its stance.
Come On, Will You Go Without Sharing This?